How the Service Desk Can Thrive
Amid Current Remote Working ITSM Challenges
About the Program
With global work environments shifting, the need for scalability and automation is urgent to handle the influx of employee requests for IT support and to offer user satisfaction in an anxious time. Demands on the IT service desk include the challenge of licensing costs, the need to handle more common processes and tasks, enabling higher levels of employee self-service, and speeding issue resolution.
AI-enabled employee self-service can auto-resolve the majority of repetitive requests, freeing the IT team to focus on business-critical issues. Aisera enables automation of repetitive IT tasks, actions, and workflows while allowing workers to auto-resolve their issues using conversational AI and conversational RPA, uniting people without physical contact. Aisera also leverages the power of AI with existing ticketing systems to bring users and services together, despite social distancing, for vital business continuity. Remote workers will get the streamlined support they need to stay productive.
By the end of the session, attendees will have learned how:
To handle employee support requests from remote workers with no additional capital resources needed

Companies can leverage out-of-the-box Al solutions to accelerate IT service delivery in real-time, using their existing service desks

Conversational Al and RPA can improve employee and customer experience at scale to ensure 24x7 business continuity and support
Presented by: Muddu Sudhakar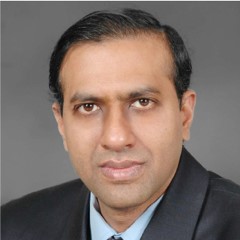 Muddu Sudhakar is a successful Entrepreneur, Executive, and Investor. Muddu has deep product, technology, and GTM experience plus knowledge on enterprise markets including Cloud, Saas, Al/Machine learning, loT, Cyber Security, Big Data, Storage, and chip/Semiconductors. Muddu brings strong operating experience with startups as CEO (Caspida, Cetas, Kazeon, Sanera, Rio Design) and in public companies such as SVP & GM role at ServiceNow, Splunk, VMware, and EMC. Sudhakar holds a Ph.D. and MS in Computer Science from the University of California, Los Angeles, and a BS in Electronics & Communications Engineering from the Indian Institute of Technology, Madras. He is widely published in industry journals and conference proceedings and owns more than 40 patents.
Agenda
12:00 Noon to 12:30 PM – Networking and Introduction
12:30 PM to 1:45 PM – Program
1:45 PM to 2:00 PM – Survey, Prize Drawing
2:00 PM – Event Ends
Date/Time
February 19, 2021 | 12:00 - 2:00 PM EST

This event is brought to you in part by Aisera.
This event is free for everyone, but our work is funded by our members. Not a member yet? Join here.