Celebrate & Inspire:
HDI Virtual Awards & Team Building Event!
Presented by HDI Capital Area Local Chapter
The Capital Area wants to celebrate and recognize all the incredible work you and your teams have done to help your company navigate this year's unprecedented challenges. We are pleased to invite you to join us at our Annual Awards and Team Building Event at NO COST. This event has become a tradition in the Washington, DC area where IT Service and Support managers bring their teams to celebrate their hard work and success throughout the year. You bring your team and we will supply an inspirational speaker. This year's virtual event will not disappoint!
The event will include an opportunity to network with area professionals, prize raffles, and Best Service and Support Analyst and Best Service and Support Technician candidate introductions. It will also include an engaging, high-energy keynote presentation, by Theresa, an inspiring, engergetic speaker and leader.
At the end of the event we will announce the winners of the HDI Capital Area Best Service and Support Analyst and Best Service and Support Technician awards. The winners will go on to the regional competition, with the Regional Winner being sponsored by Robert Half Technology to attend the HDI Annual conference in Las Vegas.
About the Keynote
"Emerge and Succeed"
Now more than ever the opportunity to emerge and succeed are in high demand. Have you identified opportunities, yet you're not clear on how to capture them? This mission to secure dynamic possibilities in life and business will require intentionality and definitive steps. Be present for a transformational and inspiring keynote as Theresa Proctor shares the steps to navigate any climate and win perpetually.
By the end of the session, attendees will have learned to:
Uncover blockages that may have caused interruption to your success

Identify the steps to position yourself for the right opportunities

Discuss the insights of the "Emerge Model" to amplify your winning edge
Presented by: Theresa Proctor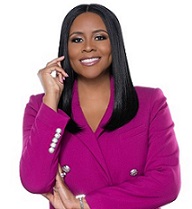 Inspiring, Life changing, Insightful and Wow are some of the descriptive words shared from testimonials captured after hearing an engaging message from Theresa Proctor.
With more than 20 years of corporate leadership, her unwavering commitment of adding value to others has served as the core to her company's perpetual success. In Corporate America, she received awards and recognition for record breaking results, sustainability, problem solving and influential leadership. She has taken the lead in enhancing corporate cultures and self-directed teams to work collaboratively resulting in an increase of operational efficiency and excellence. Theresa travels nationally training and inspiring team members to operate in their energy currency and competency. She has trained and consulted with private and public sector clients such as Department of Homeland Security, U.S. Government Accountability Office, Facebook and Johnson & Johnson.
Theresa shines in her various talents with diplomacy and is well respected in the community at large. She actively participates in civic engagement.
Theresa Proctor is the Founder and CEO of Forward Movement Enterprises, a professional development training company based in the Baltimore Washington region. They deliver professional development solutions with a focus of leadership, communication and customer experience through instructor-led and virtual training platforms. To date, her company has trained and supported the transformation for more than 254,500 employees.

We would like to thank our sponsors for helping us produce this event! Our 2021 sponsors include the following: DriveSavers, HumanTouch, Robert Half Technology and Aisera. If you are interested in becoming an HDI Capital Area sponsor, please contact vendors@hdicapitalarea.com.
Agenda
12:00 PM to 12:15 PM – Welcome and Introductions
12:15 PM to 12:25 PM – Networking Breakout Rooms
12:25 PM to 12:45 PM – Candidate Introductions
12:45 PM to 1:00 PM – Break
1:00 PM to 2:00 PM – Keynote – Theresa Proctor
2:00 PM to 2:10 PM – Break
2:10 PM to 2:40 PM – Candidate Introductions
2:40 PM to 2:50 PM – Best Service and Support Analyst and Technician Winners Announced
2:50 PM to 3:00 PM – Closing Remarks and Prize Drawing*
*Must be present to win
Date/Time
January 7, 2022 | 12:00 - 3:00 PM EST
This event is free for everyone, but our work is funded by our members. Not a member yet? Join here.